Located in the heart of northern New Hampshire's unspoiled wilderness, the Rainbow Grille & Tavern is widely recognized as having "the best dining the wilderness experience can provide." And, our unique location offers groups of various interests unparalleled fishing, relaxing, loon listening, canoeing, kayaking, mountain biking, hunting, snowmobiling and moose watching!

Accommodations range from economical Lodge rooms and comfortable lakeside log cabins to luxury honeymoon cottages with Jacuzzis and fireplaces.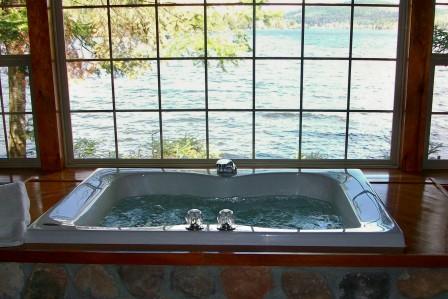 We specialize in groups of 75 or less, and we will assist you in coordinating your wedding or banquet and customizing your meal and beverage plans for an unforgettable occasion! Contact Linda for additional information. A summary of current wedding and banquet meal packages is listed below. Thank you for considering the Rainbow Grille!
Sincerely,
Linda Paige-Caron, Rainbow Grille Manager
David Caron, Ben Ducret and Chuck DeGray, Dining Room Chefs

Tall Timber Lodge
609 Beach Road
Pittsburg, NH 03592
800-83-LODGE

Copyright©2000-2017 Tall Timber Lodge.
All rights reserved. Legal Notice.